PIEDMONTESE MAKE MORE $$$ís FOR PRODUCERS.

The Piedmontese cattle as we know them today are a fully double muscled animal with fine bones and thin skins. As a result of these traits the Piedmontese enjoy the honour of having the highest dressing and cutablility percentages of any breed. Piedmontese are noted for their ease of calving especially in cross breds, excellent fertility, their climate adaptability and most importantly their high quality meat and docile temperament.
One of the MOST SIGNIFICANT benefits Piedmontese deliver in full blood or crossbred progeny is LOW CHOLESTEROL BEEF.

International tests have show that Piedmontese influence, at F1 level upwards, produces lean meat with lower cholesterol than other breeds.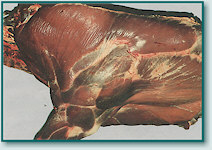 Although there is hardly any fat, the meat is extremely tender, juicy and delicious.