These calves are then fed on computer recorded rations and the data collated to establish the best performers under equal conditions. Naturally as each stage is reached, the under achievers are culled.

Only 2% of the original intake of calves ever make it to the A 1 DONOR STAGE. These bulls are then mated back to the elite herd and the process continues.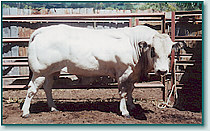 An 18 month old quality bull.